Ciawi dam project to affect 2 districts
Source: Jakarta Post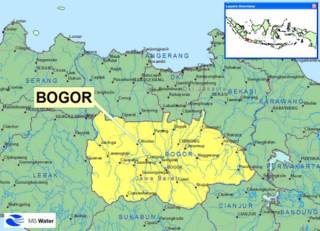 The Bogor administration will start to disseminate information on a project to construct a dam in Ciawi along the path of the Ciliwung River which will affect two districts, fearing protests from residents who object to moving from the area.
Head of Public Works Agency Nurhayanti said that the central government's project would start in 2007.
"The project is aimed at mitigating floods in Greater Jakarta, but there should be a coordination with the Bogor administration to avoid misunderstanding with local residents," she said on Monday.


She further revealed that the project will affect 204 hectares of land in the Megamendung and Cisarua districts. Hundreds of families will have to vacate the area.

The project is being carried out by the Center of Development of Ciliwung Cisadane Rivers at the Ministry of Public Works.

The two are the biggest rivers running through Greater Jakarta, including Tangerang, Bekasi and Depok.

"When the project starts, we will have to relocate houses, schools, several places of worship and villas besides other public infrastructure," Nurhayanti said.

The government is currently carrying out a technical survey to map a blueprint for the project.

The result, according to Nurhayanti, should be conveyed to the public to learn how people will respond to the project.

Head of the Center of Development, Wahyu Hartomo, added that the project is expected to be completed in 2011.

"The project will cost the central government Rp 1 trillion (US$112.35 million), which includes the compensation for residents who will be affected by the project," he said.